Only One Person Liked My Poem *SOB*
Thankless ingrates, no more poetry for you! From now on I will only be sending my poems to Amber, who appreciates my pathetic attempts at being artistic with rhymes.

Have you even wanted to blog but had nothing of interest to write about? That has been me since my last good post on Slapping and So Forth. I tried giving you something new to read, but since it was rejected so cruelly, I will resort to boring you with smut (you wish!).

MJ and I booked the weekend for the BIG MOVE. Unfortunately we had to go with the weekend of the Kinky Flea Market. That is highly disappointing because we were both really looking forward to it [It's the cheapest place to buy really high-quality gear made by local craftsman]. We will keep it in mind, in case by some freak chance we have an opportunity to slip away for a couple of hours on Moving Day (unlikely, but a girl has to hope).

A gentleman whom (I assume) bought a bunch of Tantra Chairs wholesale will be selling them at the flea market for around $700.00 CDN. As far as I am concerned, these things are the greatest idea since sliced bread!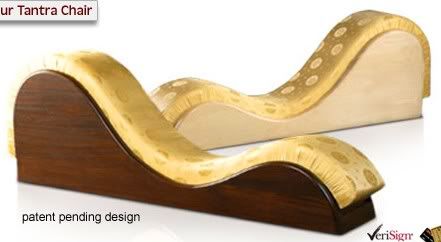 If I had the money I would have one in my bedroom tomorrow. Doesn't this couple look like they are having the time of their lives? And think of the potential for spankings and floggings (among other types of wonderful torture).




The website features a better-than-porn video of positions you can try out. While we were drooling over it, MJ and I discussed making one for ourselves. See, MJ is 6'5 and I doubt that he would be capable of managing the standing positions comfortably. It would be much better to somehow craft a taller version that was custom built to his height. I may have to talk to a friend of mine in the bondage furniture business and see if he even thinks it's possible. I may just have to start saving up for one. It will definitely be going on my Wish List.

Anyway, that's enough fluff for now! Have a great Monday :) 4 more sleeps until the new house is ours!